Posts for: April, 2019
By Windstone Dental
April 14, 2019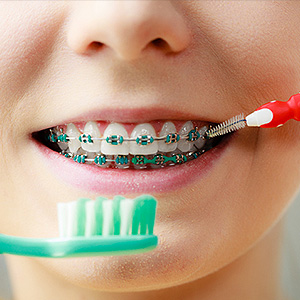 Wearing braces will probably never make your list of Most Pleasurable Life Experiences: you'll have to avoid certain foods and habits, endure some occasional discomfort, and perhaps feel some embarrassment about your appearance. The good news, though, is that at worst, these are mostly no more than inconveniences and additionally they're well worth the straighter, more attractive smile you'll achieve.
But there's one downside to braces that can lead to something more serious. The braces hardware makes brushing and flossing more difficult—and that could increase your risk of dental disease.
The principal goal of oral hygiene is to remove dental plaque, a thin film of accumulated bacteria and food particles that can cause tooth decay or periodontal (gum) disease. Without effective brushing and flossing, plaque can build up quickly and make the chances of having either of these two diseases more likely.
Not only does the braces hardware hinder your toothbrush's or floss's access to the parts of the teeth it covers, but it can also create "hiding places" for plaque build-up. Several studies have found that braces wearers on average have up to two to three times the plaque build-up of non-braces wearers.
There are ways, though, to make hygiene easier while wearing braces, particularly with flossing. Floss threaders or interproximal brushes can both be used to access between teeth while wearing braces. Another option is a water flosser or irrigator that sprays pressurized water between teeth (and beneath brackets and wires) to remove plaque. And braces wearers can get a prevention boost with topical fluoride applications or antibacterial mouth rinses to reduce disease-causing bacteria.
Besides taking a little extra time with brushing and flossing, you can also boost your mouth's health with good nutrition choices, less sugar consumption and keeping up regular dental visits. And, you should also see your dentist promptly if you notice any signs of tooth or gum problems—the sooner you have it checked and treated, the less damage any dental disease is likely to cause.
It's not easy keeping your teeth and gums plaque-free while wearing braces. But with a little extra time and effort, a few helpful tools and your dentist's support, you can maintain a healthy mouth during orthodontic treatment.
If you would like more information on best hygiene practices while wearing braces, please contact us or schedule an appointment for a consultation. You can also learn more about this topic by reading the Dear Doctor magazine article "Caring for Teeth during Orthodontic Treatment."
By Windstone Dental
April 04, 2019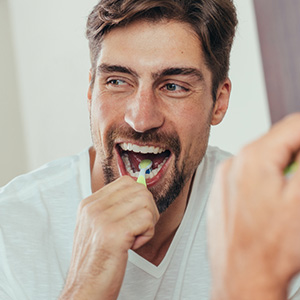 Today's dental restorations are truly amazing. Not only are they life-like and functional, they can endure for many years a hostile environment of bacteria, acid and heavy biting forces.
Even so, you'll still need to take care of your restorations to help them last. Here's how to extend the life of 3 common forms of dental work.
Fillings. We use fillings, both metal amalgam and tooth-colored materials, to repair holes or cavities in teeth caused by tooth decay. Although strong, dental fillings can break if you subject them to abnormally high biting force (like chewing ice). There's also a chance that if a slight separation occurs between the filling and tooth, bacteria can take up residence and reignite the decay process. To prevent this, practice a daily regimen of oral hygiene to clean away bacterial plaque—and reduce sugar in your diet, a prime food source for bacteria.
Veneers. Usually made of thin porcelain, veneers are bonded to the front of teeth to mask chips, stains, gaps or other blemishes. But although they're strong, veneers aren't immune to damage. Habits like biting nails, the aforementioned ice chewing or unconsciously grinding your teeth could cause a chipped veneer. And if periodontal (gum) disease causes your gums to recede, the exposed part of the tooth may look noticeably darker than the veneer. To protect your veneers and their appearance, avoid habits like ice chewing, and seek treatment for teeth grinding and dental disease.
Bridgework. Bridges are used to replace one or more missing teeth. Traditional bridges use the natural teeth on either side of the gap to support the bridge; for a single missing tooth, implants are a preferable option because they don't require permanently altering the neighboring teeth to support it. With either option, though, you should brush and floss around the restoration to reduce the risk of dental disease. Infections like gum disease or tooth decay could eventually weaken the bridge's supporting teeth or gum disease can damage an implant's gum and bone support.
With any dental restoration, be sure to practice daily oral hygiene, eat a nutritious, low-sugar diet, and see your dentist regularly for cleanings and checkups. Taking care of your dental work will help it take care of you for a long time to come.
If you would like more information on maintaining your dental restorations, please contact us or schedule an appointment for a consultation.