Posts for tag: periodontal disease
By Windstone Dental
June 19, 2017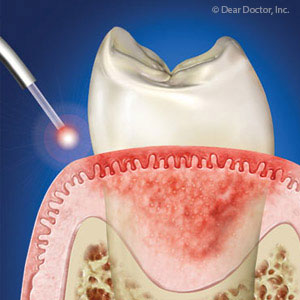 There are a variety of methods for treating periodontal (gum) disease depending on its severity — from routine office cleanings to periodontal surgery. But the goal behind all of them remains the same: remove bacterial plaque and calculus (tartar), the root cause for gum disease, from all tooth and gum surfaces.
The traditional method for doing this is called scaling in which we use special hand instruments (scalers) to mechanically remove plaque and calculus. Scaling and a similar procedure called root planing (the root surfaces are "planed" smooth of plaque to aid tissue reattachment) require quite a bit of skill and experience. They're also time-consuming: full treatment can take several sessions, depending on how extensive the infection has spread.
In recent years, we've also seen a new method emerge for removing plaque: lasers. Commonly used in other aspects of healthcare, lasers utilize a focused beam of light to destroy and remove diseased or unhealthy tissue while, according to studies and firsthand accounts, minimizing healthy tissue destruction to a better degree than traditional techniques. Procedure and healing times are likewise reduced.
Because of these beneficial characteristics, we are seeing their use in gum disease treatment, especially for removing diseased and inflamed tissues below the gum line and decreasing sub-gingival ("below the gums") bacteria.
Dentists who have used lasers in this way do report less tissue damage, bleeding and post-treatment discomfort than traditional treatments. But because research is just beginning, there's not enough evidence to say laser treatment is preferably better than conventional treatment for gum disease.
At this point, lasers can be an effective addition to conventional gum disease treatment for certain people, especially those in the early stages of the disease. As we continue to study this technology, though, the day may come when lasers are the preferred way to stop gum disease from ruining your dental health.
If you would like more information on treating gum disease, please contact us or schedule an appointment for a consultation. You can also learn more about this topic by reading the Dear Doctor magazine article "Lasers Versus Traditional Cleanings for Treating Gum Disease."
By Windstone Dental
March 05, 2017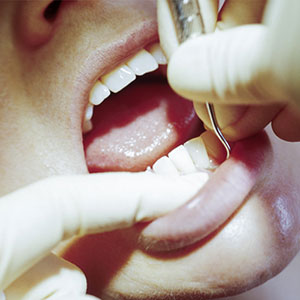 Periodontal (gum) disease is a serious infection that can damage more than periodontal tissues — supporting bone structure is also at risk. Any bone loss could eventually lead to tooth loss.
To stop it from causing this kind of damage, we must match this disease's aggressiveness with equally aggressive treatment. The various treatment techniques all have the same goal: to remove bacterial plaque, the source of the infection, from all oral surfaces, including below the gum line. Buildup of plaque, a thin film of food particles, after only a few days without adequate brushing and flossing is enough time to trigger gum disease.
The basic removal technique is called scaling, using hand instruments called scalers to manually remove plaque and calculus (hardened plaque deposits) above or just below the gum line. If the disease or infection has advanced to the roots, we may use another technique called root planing in which we shave or "plane" plaque and tartar from the root surfaces.
Advancing gum disease also causes a number of complex problems like abscesses (localized infections in certain areas of gum tissue) or periodontal pockets. In the latter circumstance the slight normal gap between tooth and gums becomes deeper as the tissues weaken and pull away. This forms a void or pocket that fills with inflammation or infection that must be removed. Plaque buildup can also occur around furcations, the places where a tooth's roots divide off from one another.
It may be necessary in these more complex situations to perform a procedure known as flap surgery to gain access to these infected areas. As the name implies, we create an opening in the gums with a hinge, much like the flap of a paper envelope. Once the accessed area has been cleansed of plaque and infected tissues (and often treated with antibiotics to stop further infection), the flapped tissue is closed back in place and sutured.
To avoid these advanced stages it's important for you to see us at the first sign of problems: swollen, red or bleeding gums. Even more important is to reduce your risk for gum disease in the first place with dedicated daily brushing and flossing to remove plaque and regular dental visits for more thorough cleaning.
Gum disease can be devastating to your long-term dental health. But with diligent hygiene and early aggressive treatment you can stop this destructive disease in its tracks.
If you would like more information on treating gum disease, please contact us or schedule an appointment for a consultation. You can also learn more about this topic by reading the Dear Doctor magazine article "Treating Difficult Areas of Periodontal Disease."
By Windstone Dental
April 30, 2016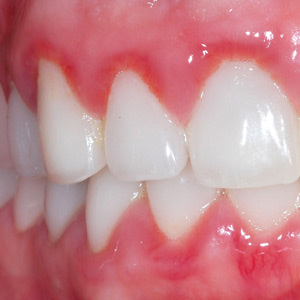 That bit of gum bleeding after you brush, along with redness and swelling, are strong signs you have gingivitis, a form of periodontal (gum) disease. Without treatment, though, your gingivitis could turn into something much more painful and unsightly — a condition commonly known as "trench mouth."
Properly known as Acute Necrotizing Ulcerative Gingivitis (ANUG), the more colorful name arose from its frequent occurrence among soldiers during World War I. Although not contagious, many soldiers contracted it due to a lack of means to properly clean their teeth and gums and the anxiety associated with war. Inadequate hygiene and high stress still contribute to its occurrence today, along with smoking, medications that dry the mouth and reduced disease resistance — all of which create a perfect environment for bacterial growth.
ANUG can arise suddenly and be very painful. The cells in the gum tissue begin to die ("necrotizing") and become swollen ("ulcerative"), especially the small triangle of gum tissue between the teeth called the papillae, which can appear yellowish. Patients also encounter a characteristic foul breath and taste. Untreated, ANUG can damage tissue and contribute to future tooth loss.
Fortunately, antibiotics and other treatments are quite effective in eradicating bacteria that cause the disease, so if caught early it's completely reversible. We start with a complete examination to confirm the diagnosis and rule out other possible causes. We then attempt to relieve the pain and inflammation with non-steroidal, anti-inflammatory drugs like aspirin or ibuprofen and begin antibiotic treatment, most notably Metronidazole or amoxicillin. We may also prescribe a mouthrinse containing chlorhexidine and mild salt water rinses to further reduce the symptoms.
We must also treat any underlying gingivitis that gave rise to the more acute disease. Our goal here is remove any bacterial plaque and calculus (hardened plaque deposits) that have built up on tooth surfaces, particularly below the gums. Only then can we fully bring the disease under control.
It's also important you become more consistent and effective with daily brushing and flossing, quit smoking, reduce undue stress, and get better rest and nutrition. Establishing these new habits and lifestyle changes will help ensure you'll never have to experience trench mouth again.
If you would like more information on ANUG and other periodontal gum conditions, please contact us or schedule an appointment for a consultation. You can also learn more about this topic by reading the Dear Doctor magazine article "Painful Gums in Teens & Adults."